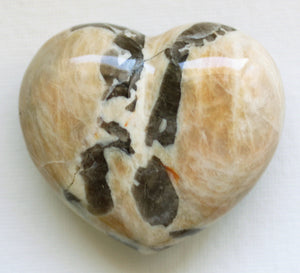 Zebradorite puffy heart with cleavage.  Really pretty patterning.
Zebradorite metaphysical properties:
Zebradorite has a gentle energetic feel to it.  Feels soothing and calming.   Keep it around to neutralize any combative energies at home or office.  Excellent stone for recovering from physical or emotional trauma. 
Most prized for its renown ability to enable recollections of ancient Egypt or Atlantis!  Just hold to your third eye and relax and let the scenes unfold.
Measures 54.2mm wide or 2.14 inches.  Weighs 2.8 ounces.
Mined in Madagascar.