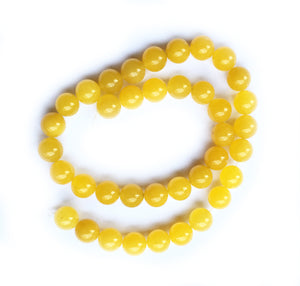 Yellow Jade Beads
One 15 inch strand of 10mm round beads of authentic Nephrite Yellow Jade.  38 beads on the strand.
Yellow Jade meaning:
Wonderful for individuals who struggle to express their feelings, especially with family members.
Helps you to align with your instinctual, earth-nature, as well as the song of the earth.  This crystal strongly responds to the human voice in song.  Wear while you sing.
Yellow Jade is known as Nephrite from the Greek word nephros.  Nephros concerns the kidneys.  Not only does it help with tissue renewal in the kidneys, but the throat, thymus, heart and stomach as well.