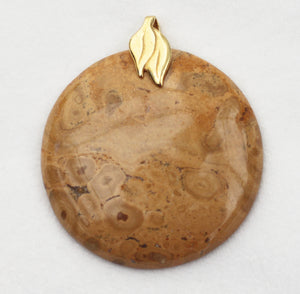 Nice shade of yellow Lake Superior Eye Agate pendant is slightly domed.  The eye agate cabochon measure 1.87 inches in diameter.  The 14k gold-plated, brass bail is in a leaf motif.
Lake Superior Eye Agate metaphysical properties:
Yellow Lake Superior Eye Agate is one of the best crystals for individuals who stay too long in situations that are no longer positive, happy or rewarding.  If you need to remember to thine own self be true, Lake Superior Agate is the crystal for you. 
Always easiest to just wear your crystals.  Lake Superior Agate jewelry helps you to remember to be loyal to your own heart first.