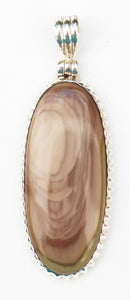 Willow Creek Jasper pendant in an elongated oval shape sterling silver setting with a crimp-edge design that measures 2-1/8 inches long by 7/8 inch wide. 
Willow Creek Jasper metaphysical properties:

Willow Creek Jasper elongated oval-shaped pendant with a refined crimp design frame in Sterling silver.
Willow Creek Jasper is a great stone for travelers and students as it assists the owner to learn from experiences and adventures out in the world.  Aids all sorts of communication, so again, an excellent choice for a student, or a teacher for that matter.  Words flow easily and gracefully as Willow Creek smooths out nerve impulses in the brain.  Great gift for a debater, trial attorney, diplomat or mediator.
Also great for stress-reduction as it transmutes stress into self-confidence as each problem is mastered and seen as smaller than the individual.
Also beneficial for impulse-driven individuals as impulsive-inclinations are transmuted into excitement for life and a desire for greater power and wisdom.
Excellent for athletes who want to enhance their coordination.