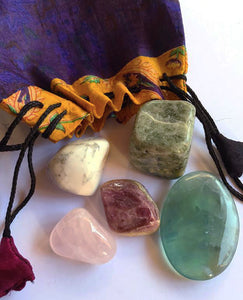 Love Stones Master Kit.  These particular pocket crystals possess a synergy that works wonders for those of us who know life's journey is sweetest with a loving partner.  These pocket stones are small, but mighty!  Whether you get this bag of healing crystals for an affair to remember, romantic travels or marriage, you'll find the included crystal ritual gets real results.  And this bag of crystals fits nicely in a pants pocket, jacket, handbag or suitcase.  Carrying crystals in a pouch keeps your intentions on track. 
You will love these crystals and their powers.  They make instant, excellent gifts.  Get one for a wedding gift with a note that they are crystals for happy marriage.  Divorcee party?  Crystals for love attraction.  Engagement party?  Crystals for love.  So many people appreciate a gift that makes using crystals to attract love so simple.  
Do healing crystals work?  These high vibration crystals do.  
Fluorite:  Psychologically enhances sexual comfort.
Howlite:  Promotes harmony.
Jade:  The stone of unconditional love.
Lepidolite-Rubellite (Pink Tourmaline):  Lepidolite encourages trust and acceptance.  Rubellite opens the heart chakra and restores joy.
Rose Quartz:  Encourages speaking from the heart.
Print out a photo of you and your partner.  If you are currently single, print out a photo of yourself and write the word partner next to your image in handwriting.  Using a cup, saucer, bowl or plate, depending on the size of the print-out, draw a circle around the image of you and your partner or you and the word partner. 
There are five small tumbled stones.  Find the tumbled piece of Jade, which is green and cube-like, and place it in the center.  Put the tumbled piece of Rose Quartz, which is pale pink, at the 3 o'clock position, the tumbled piece of Fluorite, which is translucent green with a little purple, at the 6 o'clock position, the tumbled piece of Howlite, which is white with gray veining, at the 9 o'clock position, and the Lepidolite-Rubellite at the 12 o'clock position. 
Whenever you see your crystal layout, thank the Universe in advance for sending so much love into your life.