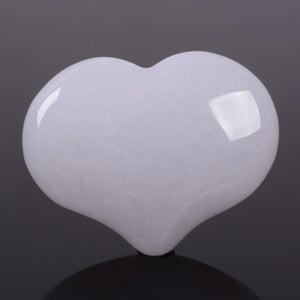 White Jade 1 inch puffy heart.  Kind of a bubble heart that is also called a puffed heart.
Jade properties:
Wonderful for individuals who struggle to express their feelings, especially with family members.
Helps you to align with your instinctual, earth-nature, as well as the song of the earth.  This crystal strongly responds to the human voice in song.  Wear while you sing.
White Jade meaning:
White Jade is known as Nephrite from the Greek word nephros.
White Jade healing properties:
Nephros concerns the kidneys.  Not only does it help with tissue renewal in the kidneys, but the throat, thymus, heart and stomach as well.
Puffed jade heart measures 1 inch across, 3/4 inch high by 1/2 inch thick.