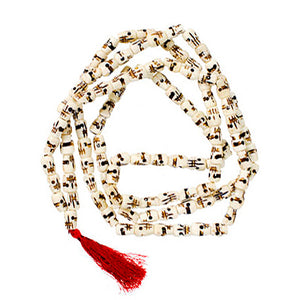 This is a longer length mala.  Hangs at belly-button length for most women.  Great for a taller woman or a man.  Dramatic witch doctor-ish look!
Hand-carved water buffalo skull Buddhist prayer beads, strung in a 108 bead necklace.  Inspired by the Buddhist tradition, reminding us of the impermanence of Life. 
As this mala is hand-carved and assembled, bead sizes and tassel color may vary, but typically 52 inches long, with each bead approximately 8 to 8.5mm by 11.5 to 13mm.  1.5mm drilled vertical hole.  This mala is not knotted.  Beautiful, 2-1/2 inch burgundy red tassel.  
Great gift for anyone who values prayer beads jewelry.  And if you are looking for meditation beads for men, this is an excellent length.