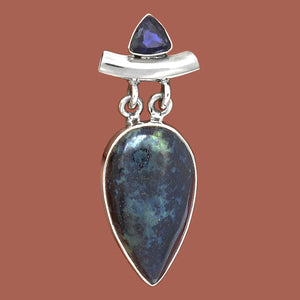 Vivianite and Iolite Silver Asian Design Sterling Silver Pendant
Vivianite crystalizes inside or between fossils and shells.  Be aware that Vivianite turns darker when exposed to a light of sunlight.  It's because of its iron content.  Usually it turns green, but if exposed to a lot of light, it can turn black.
Vivianite meaning:
The British mineralogist, John H. Vivian, discovered this mineral in Cornwall, England.  

Vivianite healing properties:
Think of convivial to understand the character of vivianite.  It helps to balance nervous energy so that the wearer is poised, friendly and charming.  Great crystal for popularity and fame.
Iolite healing properties:
Iolite is the combined embodiment of the signs of Leo and Sagittarius with a dash of Saturn.  It attracts the experiences and adventures that systematically reveal the hidden mysteries of existence.
Wearing Iolite attracts philosophical, introspective, formal, intelligent, patient, authentic, honest individuals.