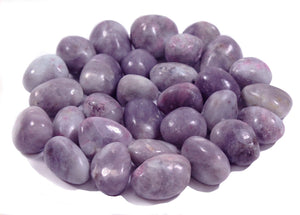 What a fantastic combination of minerals!!  Lepidolite and Rubellite!  Each stone varies, but each tends to measures approximately .87 inch by .73 inch by .62 inch and weighs 1/5 of an ounce.
Lepidolite meaning:
Lepidolite belongs to the Mica family of minerals and is naturally pearly and metallic.
Lepidolite properties:
Lepidolite may look sweet and delicate, but it is full of fire energy.  It actually resonates with Venus AND Leo to align you with your Higher Self.  It is a vey propelling energy, helping you to move forward in all areas of your life.  Great for leaders, pioneers, and performers who want to inspire others.  It is the energy of the teacher of teachers or the healer of healers when love is the elixir.  Lepidolite imparts endless energy for strength, courage and bravery.  It is best utilized by sincere, creative, artistic individuals who lead by example and prefer to side-step persecution.
Rubellite meaning:
Rubellite is Red Tourmaline. 
Rubellite properties:
Great protection for travel.  Calls in powerful forces of protection.  Releases radiation from the body following an exposure.  Inspires love of exercise and knowledge. 
Keep it by you when signing contracts.  As with all tourmaline, enhances sleep.  Great for fertility, creativity and bringing an aggressive or passive nature into balance.