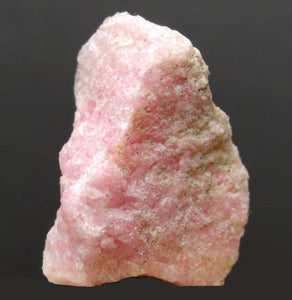 Very nice specimen of Tugtupite mined in the Kvanefjeld Mountain, Ilímaussaq Complex, in Narsaq, Kujalleq, Greenland.  Its name is a derivative of the Greenlandic Inuit word tuttu, which means reindeer.  Tugtupite means the color of a reindeer's blood.  It actually can be blue and green, not just pink and red.  In structure, it is similar to Sodalite.  
Measures 3/4 inch by 1/2 inch by 1/4 inch thick. 
Tugtupite meaning:
This is a master stone and it is not for those just starting out on their spiritual paths.  It is an excellent stone for those deeply ensconced on their spiritual path who want to enhance their vitality and integrate ambition and passion into their work. 
It is also a stone of leadership, passing tests, withstanding opposition and following big dreams of the heart.