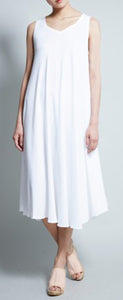 Hand-woven Tienda Ho Zora A-line design cotton-rayon boutique dress from Morocco in white.
As you can see in the picture, this cut on the bias dress has sleek lines and an easy look.
Tienda Ho is a beautiful boutique on State Street in the heart of Santa Barbara that looks like a Moroccan bazaar.  It is filled from the floor to the ceiling of the 2nd floor with clothing and treasures from both Morocco and India.  And the place is typically humming with quiet conversations amongst customers and staff about piecing together different looks.  
It's all about layering, be the layers pants, skirts, tank tops, tank dresses, sleeved tops, vests, jackets, coats and scarves. 
The pieces from Morocco are either 100% combed Viscose knit or a great blend of Cotton and Rayon and they are super soft and drape beautifully.  Everything is one-size and miraculously it works on all sizes of women from model-thin to voluptuous 2X.
Hand-woven fabric.  
This universally-sized Zora dress is beautifully made, features a modified Sweetheart neckline, five rows of topstitching along the neckline and armholes, and measures 43 inches long from the nape of the neck to the hem and the bust measures 39 inches un-stretched. 
Dry cleaning is recommended, but I wash mine in cold water with Woolite and then lay it out to dry on towels.
Automatically shipped via 2-day Priority Mail with $150 insurance.