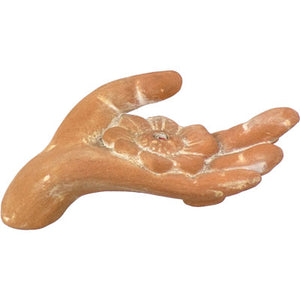 Terra Cotta Ceramic White-Washed Hand with Lotus Flower Incense Burner.
Made to hold a stick incense upright when placed inside the center of the lotus flower.   The length of the hand is 4 inches long.
The Lotus is a symbol of purity, it stands above the mud and dirt of where it grows, it opens up to the sun like in the awakening of the spiritual reality of life: symbol of enlightenment.
Made in Nepal.