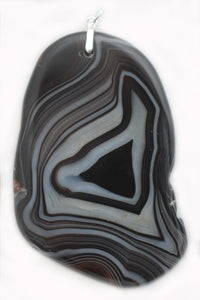 Highly-polished, glassy, Black Agate pendant with dynamic pattern measures 3 inches long by 1-7/8 inches wide by 1/5 inch thick.   Dainty sterling silver bail.
Black Agate meaning:
Black Agate is primarily composed of chalcedony and quartz. This is the stone of the humanitarian. 
Theophrastus named this stone agate.  He found it along the shore on Sicily.  Most of the agate there is tan and white though.  He was a Greek philosopher born 371 BC.  He took over for Aristotle at the Paripatetic School.  
Black Agate healing properties:
Black Agate is a good choice for individuals who are willing to take a stand for their principles and do not care whether or not they have to stand alone.  
Black Agate helps us to find wisdom from our past so that we feel confident in facing the unknown of the future.  
Also a good stone for individuals that need motivation for completing tasks at hand.