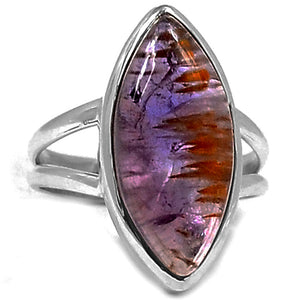 Super Seven ring set in sterling silver marquise setting ring size 9.
Super Seven is a good name for this crystal since it is comprised of seven different mineral inclusions.   The seven minerals include Clear Quartz, Amethyst, Smokey Quartz, Rutile, Cacoxenite, Geothite and Lepidocrocite.
Super Seven is also called Super 7 Stone or Melody Stone.
This stone is about love raised to the frequency of compassion.  Wonderful crystal for a spiritual leader or teacher of teachers.  This stone asks that you spread your light, your love and your insights.  It gives you the energy you need to love unconditionally.