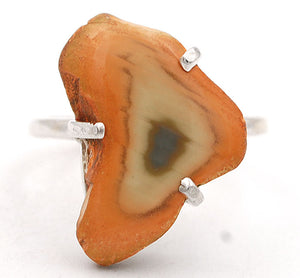 Sunset hued Imperial Jasper with beautiful triangular markings.  This is a ring size 9.5 in Sterling Silver.  Royal Imperial Jasper differs from Imperial Jasper in that it has the "egg" marking.
Royal Imperial Jasper meaning and properties: 
This tone aligns with favorable court outcomes.  Royal Imperial jasper draws comfort, wealth, honor and pleasure to its beholder.  
One of the five fine jaspers along with Bruneau Jasper, Morrisonite, Willowcreek and Blue Mountain Jasper.