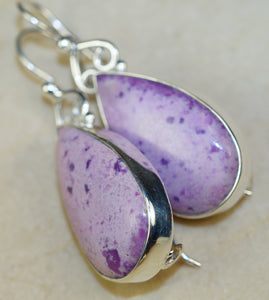 Sugilite earrings in a pear shape in sterling silver settings that measures 1-15/16 inches long by 5/8 inch wide.
Purple Sugilite Stone meaning:

This is not a common mineral.  Sugilite stone was discovered on a Japanese island named Shikoku by a geologist named Ken-ichi Sugi in 1944.  Hence the name Sugilite.  His name is pronounced sooh-ghee-light, but many people pronounce the stone's name as sooh-jee-light.  
Sugilite metaphysical properties:
Everyone (unless you live a stress-free life) benefits from Sugilite properties!  It is the master relaxer and an amazing meditation tool.  It naturally encourages surrender to your Higher Self and aligns your knowing with awareness that puts you where you need to be, when you need to be, and with who you need to be with.  This crystal works wonderfully-well with Mahogany Jasper and/or Red Flower Jasper.  
Purple Sugilite stone resonates with the Moon and helps us discover how much is waiting to come to us and fall into place when we let go.
This is its natural color; it has not been enhanced, stabilized, dyed or radiated.
Great gift for someone who collects sugilite stone jewelry.