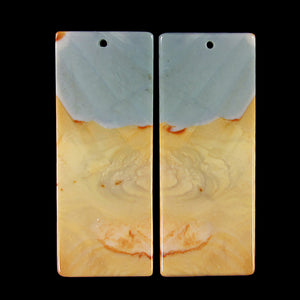 Succor Creek Jasper beads in rectangular shape that would be perfect for earrings.  They look like art.  They actually look a lot like the area where they were mined.  Each bead measures 1.94 inches long by .78 inch wide by 0.13 inch thick.
Succor Creek Jasper is mined in the Succor Creek Canyon located in eastern Oregon.  
Succor Creek Jasper metaphysical properties:
Wear it to attract material comfort, nurturing relationships, social and financial success, and to gain insights through dreams and psychic experiences.  Generates feelings of optimism and rewards generosity.