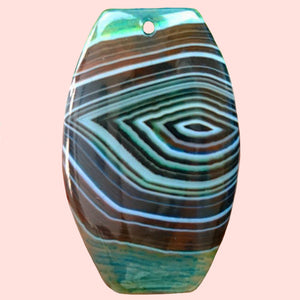 Green, burgundy and gray Banded Agate with an eye barrel-shaped bead that measures 2 inches long by 1.23 inches wide by .25 inch thick.  
Banded Agate meaning:  
The alternating bands or layers are layers of quartz and chalcedony.  Most banded agate formed by water moving in and out of crack in ancient lava flow.  The water contained very fine particles of silica and it would leave behind a layer of minerals that would crystalize.  Over the years, as the composition of the water changed, it created differently colored layers.  Banded Agate is also known as Riband Agate or Striped Agate.   
Banded Agate metaphysical properties: 
Banded Agate is about beauty, visual harmony and the comfort and security of family.  It is great for artists, interior designers, feng shui practitioners, set designers and creative people at large.  
Banded Agate healing properties:  
It restores function and coordination to the parts of the body that work together as a pair, such as eyes, hands, lungs, kidneys and ovaries.