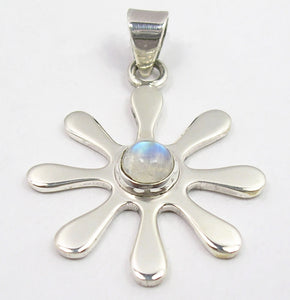 Sterling Silver Flower Power pendant with 5mm round Moonstone center.
Lovely Moonstone cabochon.  When the two types of Feldspar that make up Moonstone are very thin layers interspersed with each other, this great iridescent quality known as adularescence is produced.  It is the bluish glow that seems to emanate from within the gemstone.  Moonstone is also called Adularia or Hecatolite (for the Greek Moon Goddess, Hecate).
Moonstone healing properties:
It resonates with the stomach, spleen, pancreas, and intestines.  Also works on the pituitary gland.  Improves digestion and is essential for individuals with ulcers and acid reflux.  Moonstone is excellent for stress reduction and for mothers who worry too much about their children.   Moonstone is a super-supportive crystal for pregnant, laboring and nursing women.
Pendant measures just over 1-3/8 inches long by 1 inch wide.