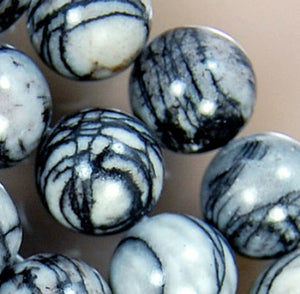 Beautiful Spider Web Jasper 10 mm round beads.  28 beads per strand.  
Spider Web Jasper healing properties:
These 10mm gemstone beads are associated with wealth, power and prestige.  It accords its owner a persuasive mind, a vital constitution, and a strong survival instinct.  
Spider Web Jasper is also called Spider Web Agate.  It is a great crystal to have around during unsure times as it imparts a sense of knowing how to be prepared for whatever comes.  In the same way the spider's web catches what is needed to survive and thrive, the Spiderweb Jasper catches what is needed through listening, observation and sensing when the time is right.  Strong Jupiter/Sagittarian energy.