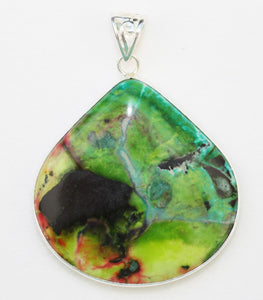 Sonora Sunrise pendant in an opulent wide pear shape.  Pear shapes attract abundance, fertility, wealth and popularity.
Sonora Sunrise meaning:
Sonora Sunrise Stone is a combination of Chrysocolla and Cuprite.  The vein of Sonora Sunrise in Mexico has been exhausted, so until a new vein is discovered, it's on the more rare side.  Sonora Sunrise Jasper is also known as Sonora Sunrise Stone,  Sonora Sunrise Chrysocolla, Chrysocolla Jasper, Chrysocolla Stone, Chrysocolla Cuprite and Chrysocolla and Cuprite.
Sonora Sunrise metaphysical properties:
Sonora Sunrise Stone brings out the genius in the self-employed individual so that they can work smarter instead of harder.  
Sonora Sunrise stone is excellent for those born during the last ten days of the sign of Taurus when the energies are a blend of Taurus and Capricorn since those individuals can get very stuck in thinking the solution is to just try harder or work more hours.  Sonora Sunrise Jasper clears out the work patterns of the past so that you can get a fresh perspective and allow new ideas of how to approach a project enter your mind.
Nice wide pear-shaped Sonora Sunrise pendant framed in a slightly rustic handmade sterling silver open-back setting that measures 2.1 inches long by 1.5 inches wide.  Great addition to a collection of Sonora Sunrise jewelry.