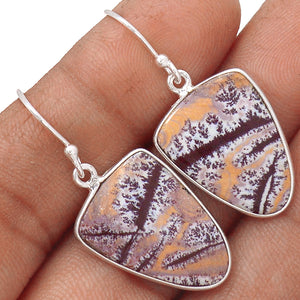 Sonora Dendrite Agate shield-shaped earrings set in hand-made silver frames.  Earrings measure 1.45 inches long.  
Dendrite Agate has a lot of different appearances.  
Dendritic Agate meaning:
Dendrite refers to nerves and the stone gets its name from the similarity in appearance to a network of nerves.  The dendrites are actually manganese, iron oxide or vegetation that was present at the time the stone crystalized.
Dendritic Agate healing properties:
Dendritic Agate is considered healing for conditions with similar appearances: nervous system, root systems, branch systems. 
An excellent choice for a gardener, a neuro-surgeon, or a genealogist.  Assists with any kind of growth and stabilization. 
Dendritic Agate is great for students who need to follow thought development.  Also excellent for writers for character and plot development.