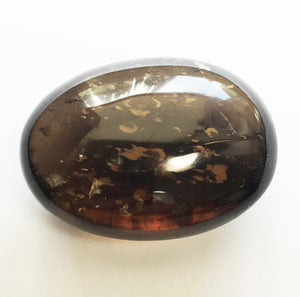 Natural Smoky Quartz puffy palm stone that measures 2 inches long by 1.47 inches wide by 0.93 inch thick.  Also spelled smokey quartz.  Weighs 2.2 ounces.  Has a couple of small not completely glassy smooth areas.
Smoky Quartz meaning:
Smoky Quartz incites safe kundalini release.  Also excellent for issues concerning abdomen, kidneys, pancreas, reproductive system, fertility, virility, adrenals, heart, muscle loss, and nerves.
Smoky Quartz metaphysical properties:
Smoky Quartz improves coordination and functioning of first, second and third chakras.
This crystal brings about organization.  Smoky Quartz is a must-have for anyone running an organization.  
Smoky Quartz is one of the best crystals for an executive or new dad.
Product code 7c.