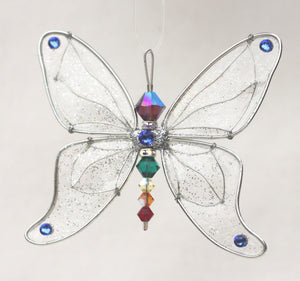 Silver Butterfly Suncatcher small mobile with chakra-themed rainbow Swarovski crystals, handmade wings.
Swarovski Crystal Suncatcher silvery handmade butterfly mobile with chakra-themed Swarovski crystals and handmade wings that measure 2.75 inches wide by 2.25 inches.  These are quite dazzling because they are glass bead suncatchers.  Silver toned, not actually silver.
Everyone has windows.  Who doesn't want hanging suncatchers for windows in every area?  A beaded suncatcher mobile looks great dangling from the rear view mirror, in your garden, your home or office, use to accent a mirror or in a spot that needs a little magic!  And mobile suncatchers are mobile.  You can always just move them back and forth from house to car to office. 
The rainbow body of the butterfly chakra suncatcher is made using Swarovski crystals.  
This great Swarovski suncatcher is a great addition to a collection of suncatcher ornaments.  
Product code 15.