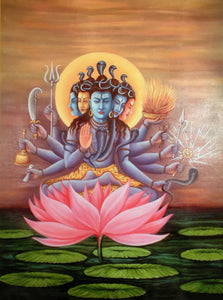 Beautiful picture of Lord Shiva levitating over a pink lotus blossom.  This quality art print measures 8.5 inches wide by 11 long.
Who is Shiva?
Lord Shiva is the third deity in the Hindu Triad.  Shiva represents the aspect of the Supreme Reality that continuously dissolves and recreates the universe.  He is the Lord of Mercy and Compassion since without the cyclic process of evolution, souls could not evolve and attain liberation.
Lotus flower meaning: 
Amazingly, the elegant blossoms and leaves of the lotus rise up out of murky, muddy waters.  The lotus bloom presents an amazing contrast of purity and beauty as compared to the muddy, murky pond.  This is why the lotus is associated with purity and beauty.   The lotus plant surfaces out of its pond over three days and then blooms on the third day from morning through mid-afternoon.
Four-color-process print of an original illustration by Tanya Sydney printed on high-quality photo paper mounted to lightweight white foam board. Ships flat with cardboard in plastic sleeve.