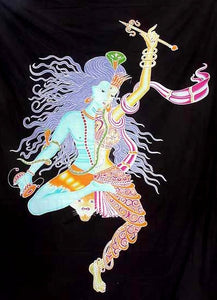 Shiva Shakti art batik wall hanging tapestry.
This is not actually a tapestry in that it was not hand-woven on a loom, but tapestry has become a term commonly applied to batik wall hangings. This beautiful batik art wall hanging tapestry was made in Bali in Indonesia by a group of women from the Ubud region.  
Batik is a resist-dye process.  Wax is applied in the design or areas that stay white, such as the drawing of the pattern itself.  The dyes are painted on and blended.  The dyes do not cross over the wax lines.  Once the dyes are permanent, the wax is removed and the banners are spread out to dry.  This time-honored, hand-made process is what renders the amazing detail and watercolor look to the fabric.  
This batik art wall hanging tapestry measures 27 inches wide by 34 inches long with a 1-1/2 inch top hemmed pocket for a rod or dowel. Once dry, the banners are hemmed by village craftswomen. 
Your batik art wall hanging tapestry is machine-washable on a cold water cycle and machine-dry on gentle.