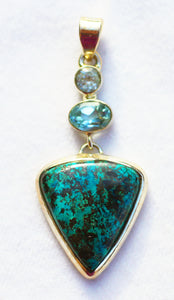 Shattuckite pendant that includes a triangular Shattuckite cabochon set in Sterling Silver with a natural faceted 6x8mm oval and 4.7mm round Blue Topaz.  The pendant measures  1-7/8 inches long by 7/8 inch wide.
Shattuckite meaning:
Shattuckite triggers repair to the coding of the genes.  Some people use it to unleash stored information from previous life times - such as an affinity for a language that was once spoken.  
Great crystal if you've had radiation exposure or genetically-altering drugs.   This crystal helps you to strategize what practical steps to take to achieve your ambitions and to discern whether your ambitions are going to make you feel happy and fulfilled.  The results are tangible and real. Tends to program the subconscious mind to believe and behave in a way that triggers others to confer or offer positions of authority and power.