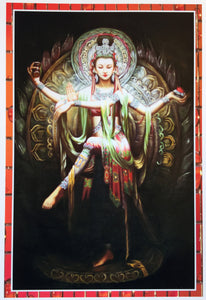 Shakti the Divine Feminine Creative Force 8.5x11 art print.
The name Shakti is from the Sanskrit word shak, which means to be able.  She is the sacred force or empowerment which is the primordial cosmic energy representing the dynamic forces that move through the entire universe.  Shakti is concept and personification of the divine feminine creative power, sometimes referred to as The Great Divine Mother.
Four-color-process print of an original illustration by Tanya Sydney printed on high-quality photo paper.
Ships flat with cardboard in plastic sleeve.