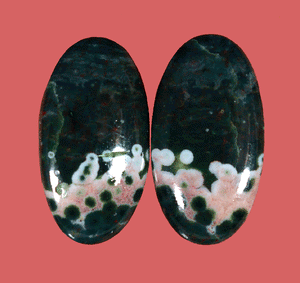 These are a matched pair of Ocean Jasper cabochons in oval shape that each measures 14mm by 25.5mm long.  They would be ideal for earrings.
Ocean Jasper is a beautiful stone.  It is also called Sea Jasper, Orbicular Jasper and Jasper Stone.  It is mined along the tidal shores of North East Madagascar.  These cabochons are particularly dramatic.
Ocean Jasper properties:
Sea Jasper facilitates animal communication.  Just hold it in your non-dominant hand while you meditate on the animal or animal spirit.