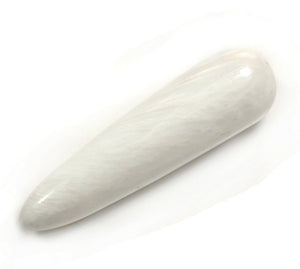 Scolecite Wand for feminine cosmic leadership abilities.
No other mineral forms in the same way that scolecite forms.  The slightly shaded pattern on the stone are where needles have broken off.  This stone tends to have a spray of brittle needles that easily break off.  It is usually white or translucent, but sometimes you can find it in pink, peach, red, green or even translucent.
This stone enhances intuition and alignment with cosmic inspiration and vibrancy.  It is excellent for compassionate leadership.  Think Princess Leia.
It is also soothing and more balancing than a selenite wand.
The 1 oz wand is 2-1/2 inches long.
The 1.1 oz wand is 2-3/4 inches long.
The 1.2 oz wand is 2-13/16 inches long.
Great gift for someone who uses a Reiki healing wand.