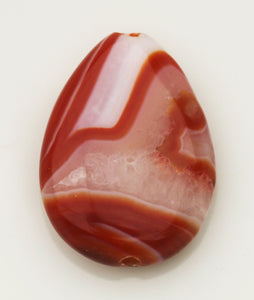 Natural Sardonyx stone pear-shaped bead that measures .86 inch wide at its widest point by 1.16 inches long.  Red Sardonyx bead is flat on one side and "puffed" on the other.  It is drilled at the top, front-to-back.  The front is not perfectly shaped, but you can only tell by feeling it.  It is polished silky-smooth and has great patterning.  
Sardonyx stone meaning:
Onyx forms in layers of chalcedony that alternate with clear and colored layers that formed when some other mineral was present.  Sard is red, yellow or reddish brown.  The red is from a watery presence of iron oxide.  The red chalcedony is called limonite.  Sometimes sardonyx is called red sardonyx stone.
Sardonyx properties:
Sardonyx stone has a strong Mars energy.  It is great for start-ups, needed confrontations, clear-sighted vision, inspiring followers, improving vision, taking the lead, winning competitive sports, bold moves, inciting action, courageous strategy, and attracting these qualities to yourself in the forms of opportunities and men.