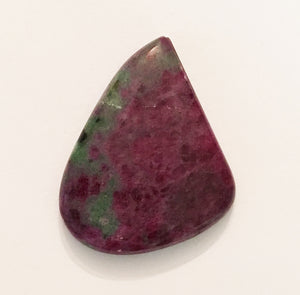 Ruby Zoisite free form cabochon measures  1.1 inches by 0.93 inch by 0.2 inch thick.
Ruby Zoisite meaning:
Ruby Zoisite inspires thoughts of material comfort, wealth, success and fame.  Those thoughts generate ideas to create the same and to attract everything needed to make it happen.  Carrying this crystal heart, you find your attitude and behaviors start to align themselves with a life of luxury.  The mind embraces an easier, more fortunate lifestyle.  
Ruby Zoisite Properties:
Ruby Zoisite also aligns you with Divine protection in the physical world by triggering more and more awareness on your part of everything that is good, beautiful and bountiful.
Great coloring