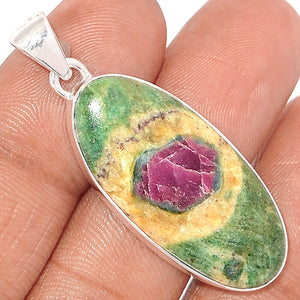 Ruby Fuchsite pendant in a wing shape that measures 1.68 inches long by 0.58 inch wide.  Great addition to your Ruby Fuchsite jewelry.
Ruby Fuchsite healing properties:
This is a very Virgo-ish stone. Virgo loves to be of service. This stone puts the joy back into taking care of others, especially around organization, holistic medicine, and counseling. It stimulates your awareness of what is good and enjoyable in your everyday life so that you can remember to enjoy the journey. 
Virgo rules the Hermit in tarot.  Hermits are experts at creating sacred space for themselves and insulating themselves from the negativity of the world.  Same goes for this semi-precious stone.  You will especially benefit from its companionship if you are in the vicinity of judgmental, critical or negative people.
Ruby in Fuchsite is an excellent stone for those in the healing, counseling and management professions.