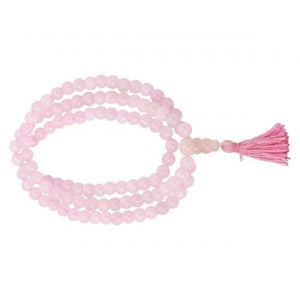 Natural, untreated Rose Quartz 8.5 mm beaded 108-count mala.  
Wear as a beautiful necklace or use during meditation to count off 108 breaths or positive affirmation repetitions.  To keep the tassel's silk threads straight, spritz them with water and gently comb them straight.  To clean your mala, put it out under a full moon for half an hour and you're good to go.  A great gift or caretakers.   
Rose Quartz meaning: 
The mineral manganese gives Rose Quartz its beautiful pink color. 
Rose Quartz properties: 
Although this crystal is most associated with the heart and love, it is slightly more masculine in character, and strengthens conviction of one's passion, desire, devotion, purpose and connection to life.  Also great for issues concerning father, sex and anger. 
Excellent crystal for when you meditate.
It is also helpful in alleviating sexually-transmitted disease symptoms.