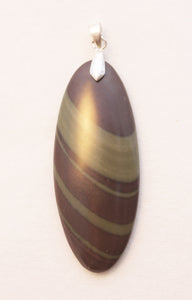 This marquise shaped Ribbon Jasper pendant measures 2.5 inches long. 
Ribbon Jasper meaning:
Ribbon Jasper is a Piscean stone, especially for those born during the first ten degrees of the sign.  
Ribbon Jasper properties:
Ribbon Jasper attracts success, then steps up the spiritual growth, which may sometimes prompt its owner to abandon everything attained to pursue a more sacred path ... think Cat Stevens.  Then, it brings the two forces of material success and spiritual understanding together for even greater satisfaction.