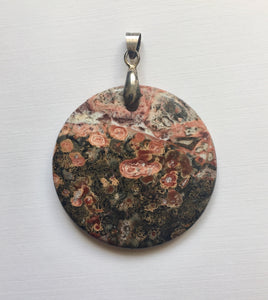 Rhyolite pendant.  Rhyolite is also called Leopard Skin Jasper.  This round disc-shaped pendant with sterling silver bail that measures 1.75 inches in diameter.
Rhyolite properties:
Really nice specimens of Leopard Skin Jasper in a classic style.  Leopard Skin Jasper enhances independence, determination, passion, visibility, winning in competitions, vitality, commitment to the good fight, and the ability to take a stand.  
One of the best crystals to come to your aid in a legal battle.
Helps bring about a change for the better, especially for those with July birthdays.