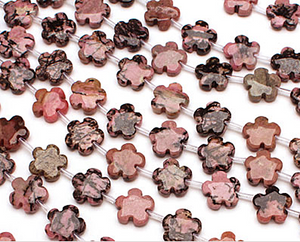 One strand of seventeen 15.3mm slightly puffy flower shaped Rhodonite beads just like the flower power sticks of the sixties!  I don't want to call it a 16 inch strand because there are plastic spacer tubes between the beads (to protect the beads).  It is more like an 8 inch strand.
Rhodonite meaning:
Rhodonite is an ancient mystical stone used by the Lemurian's to harmonize frequencies. 
Rhodonite healing properties:
Today it is used to restore sensitivity to pitch and frequency.  Ideal stone for those looking to recapture hearing. 
Display or store your Rhodonite beads some place quiet as they are very sensitive to sound.