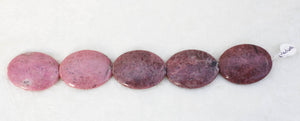 8" strand of 30mm by 40mm slightly puffy Rhodonite beads
Meaning and Properties:
Rhodonite is an ancient mystical stone used by the Lemurians to harmonize frequencies.  Today it is used to restore sensitivity to pitch and frequency.  Ideal stone for those looking to recapture hearing. 
Display or store your Rhodonite some place quiet as it is very sensitive to sound.
THE FIRST BEAD - THE LIGHTEST BEAD - HAS A LITTLE CHIP ON THE OUTER RIM - SO THE PRICE FOR THIS STRAND HAS BEEN REDUCED TO REFLECT ONLY FOUR OF THE FIVE BEADS