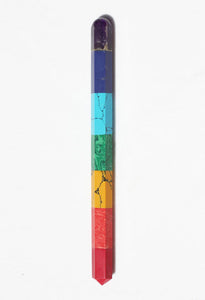 Reiki Healing Wand
Reiki chakra healing wand with a combination of red carnelian, orange jasper, howlite (naturally dyed yellow with turmeric), malachite, turquoise, lapis lazuli and amethyst.  Unlike other gemstone healing wands that are sausage size, this one is the perfect pencil size.  
How to use a chakra wand:
Hold the Reiki wand tip over areas of pain, tightness or a specific chakra for the best energy wand healing.  You can also stir the tip over the palm of your hand in a clock-wise direction three times to energize your palms.  Stir your water or beverages with your chakra balancing wand (carefully since these are Reiki healing stones).  
Gemstone wand measures 5-1/2 inches long.  
Product Code 59