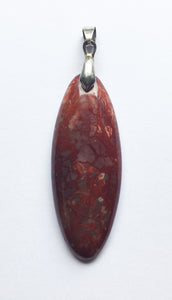 Red Stone Canyon Agate is often referred to as Red Stone Canyon Jasper.  It is found along the San Andreas faultline in California. 
This stone engenders a connection to knowing and trusting what you sense is true and right.  It is an extremely helpful stone to have with you during tests or in any situation where you must discern the deeper truth.
2-3/4" long aby 7/8" wide.  Very pretty shape.