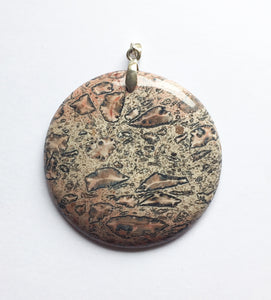 Red Flower Jasper Pendant measures just under 1-7/8".
As you can see, this is a very beautiful jasper that looks like it was painted by the artist Gustav Klimt.  More than beautiful, it is especially beneficial for women as it helps them remember to take care of themselves, especially to eat right and get sufficiennt sleep.  Great stone for a new mother.  In general, Red Flower Jasper promotes celluar-healing activity, meaningful rest, poetic reflection, and conscious dreaming.  
An excellent stone to wear for more profound meditation as it resonates with the Moon, the Sun, and the sign of Pisces.