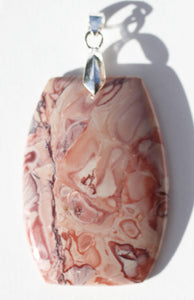 Red Cloud Stone Jasper Barrel Shaped Pendant with Silver Bail 
Meaning and Properties:
Red Cloud Stone Jasper bestow lots of charm and grace upon it bearer.  Life just goes more smoothly and money tends to fall into your lap.  
This pendant measures 2-1/2" long and 1-1/2" wide by 1/4" thick.  
Great crystal Taurus individuals for those born during the first ten days of May.