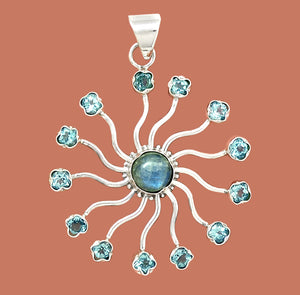 Rainbow Moonstone pendant with Rainbow Moonstone in the center with 13 Blue Topaz faceted gems at the end of each solar ray.  This is a hand-made pendant with a Sterling Silver setting.  Rainbow Moonstone pendant measures 2 inches long and is 1.58 inches wide.  
Rainbow Moonstone meaning:
When the two types of Feldspar that make up Moonstone are very thin layers interspersed with each other, this great iridescent quality known as adularescence is produced.  It is the bluish glow that seems to emanate from within the gemstone.  Moonstone is also called Adularia. 
Moonstone Properties:
Rainbow Moonstone resonates with the stomach, spleen, pancreas, and intestines.  Also works on the pituitary gland.  Improves digestion and is essential for individuals with ulcers and acid reflux. Excellent for stress reduction and for mothers who worry too much about their children.  Excellent for pregnant, laboring and nursing women.
Blue Topaz Meaning:
Blue Topaz brings opposites into harmony, so it is a natural recommendation to insure a happy marriage or business partnership.  Also great for mediations and any kind of position resolution to a long-held dispute.  Physiologically, Blue Topaz balances the emotional body and calms inflammation.  It is also recommended for cell regeneration, rejuvenation, and third chakra activation and balancing.  Expose your pendant to sunlight for ten minutes or so every so often to enhance the Blue Topaz.  Even better, expose it to sunlight through blue film.  Ideally, keep it on a piece of quartz when you don't wear it.