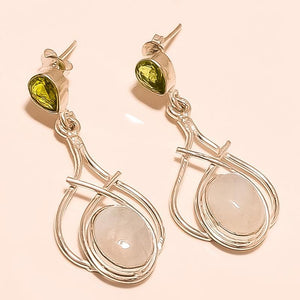 Rainbow Moonstone Earrings with Green Tourmaline Accents
Moonstone meaning:
It's a Pisces crystal and is especially good for individuals born during the last ten days of Pisces. Also great for anyone in a Pisces profession: music, psychology, interior decoration, set design, photography, spirituality, choreography, flooring, shoes, ice sports, oceanography, and watercolor or oil painting. 
Rainbow Moonstone is also called Adularia and Hecatolite (for the Greek goddess, Hecate).
Moonstone properties:
Rainbow Moonstone resonates with the stomach, spleen, pancreas, and intestines. Also works on the pituitary gland.  Improves digestion and is essential for individuals with ulcers and acid reflux. Excellent for stress reduction and for mothers who worry too much about their children. Excellent for pregnant, laboring and nursing women.
Aside from all of the maternal characteristics, Rainbow Moonstone is a wonderful crystal for anyone. It resonates with ideal love, artistic creativity, happy home, success, friends, family and personal magnetism.
The Rainbow Moonstone cabs each measure 10mm by 17mm long.  The length of each earring from the top of the ear wire is 1.71 inches.
Green Tourmaline properties:
Green Tourmaline resonates with the heart chakra and keeps it open.  Helps release issues around one's father.