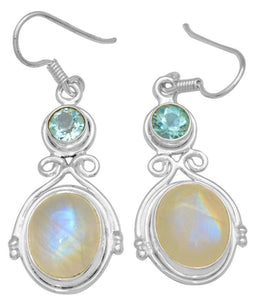 Rainbow Moonstone Earrings
Great synergistic benefits from the blending of these two gemstones: translucent Rainbow Moonstone and natural Lake Blue Topaz.  Well-crafted cast sterling silver setting with stainless-steel ear wires.
Blue Topaz meaning.
Blue Topaz brings opposites into harmony, so it is a natural recommendation to insure a happy marriage or business partnership.  Also great for mediations and any kind of position resolution to a long-held dispute.  Physiologically, Blue Topaz balances the emotional body and calms inflammation.  It is also recommended for cell regeneration, rejuvenation, and third chakra activation and balancing.  Expose your Blue Topaz jewelry to sunlight for ten minutes or so every so often.  Even better, expose your Blue Topaz jewelry to sunlight through blue film.  Keep it on a piece of quartz when you don't wear it.
Moonstone properties.
Rainbow Moonstone resonates with the stomach, spleen, pancreas, and intestines.  Rainbow Moonstone also works on the pituitary gland.  Rainbow Moonstone improves digestion and is essential for individuals with ulcers and acid reflux.  Rainbow Moonstone is an excellent stone for stress reduction and for mothers who worry too much about their children.  Rainbow Moonstone is excellent for pregnant, laboring and nursing women.