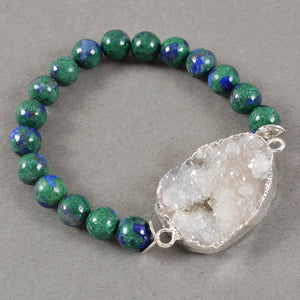 7.5mm Natural Lapis Lazuli - Malachite round beads strung on super-strong elastic so you can just slide it on.  Features a focal bead of clear quartz druzy bordered in silver.  Fits a 6 inch wrist.
According to Edgar Cayce, the sleeping prophet, Lapis Lazuli restores vitality and virility.
Lapis Lazuli metaphysical properties:
Now known to also stimulate psychic abilities, release stress accumulated in the throat and thyroid, neutralize toxins in your refrigerator (good place to store your bracelet), get the feelings out, and facilitate beautiful articulation.  Excellent for shy or introverted individuals.  To cleanse, put your bracelet out in the sun or during the full moon for half an hour and you're good to go.
Malachite metaphysical properties: 
Malachite works well for alleviating pain, sleep and coordination between the right and left hemisphere of the brain.  Malachite helps with sleep.  Wear just before retiring. When using to enhance right and left brain hemisphere communication, order two pieces and hold one to each temple. 
Trendy elegance.