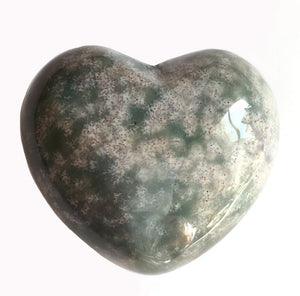 Very beautiful puffy Moss Agate heart that measures 1.8 inches wide by 1.57 inches long by 1.03 inches thick.
Green Moss Agate meaning: 
Green Moss Agate is named for its appearance which looks like green particles assembled and crystalized in moss patterns.  Moss Agate is about freshness, new growth and new beginnings.  Green stones typically represent money and currency, and this is especially true of Moss Agate.  Moss Agate Stone meaning is about attracting abundance, wealth and improved self-esteem.
Moss Agate is also called Mocha Stone when it is brown instead of green.  
Green Moss Agate metaphysical properties:
Green Moss Agate stone is an excellent stone for you if you know that you want more than just wealth, luxury and worldly success.  Moss Agate opens, clears, grounds and balances the lower chakras so that you can safely expand your higher chakras, inviting in more love and affection.  Moss Agate releases regrets about the past.  Moss Agate is a Venus stone.
Moss Agate also increases awareness with clarity, inspires optimism, and encourages patience. 
Green Moss Agate healing properties: 
Excellent for issues concerning the urethra, prostate, uterus, testicles, fallopian tubes, sperm duct, vagina, penis and labia.
Product Code 6-C