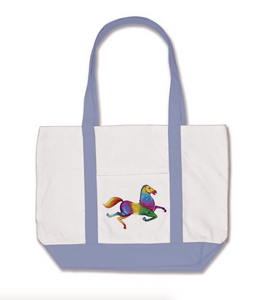 Kyle MacDuggall's Psychedelic Horse Two-Color Cotton Twill Canvas Tote 
Environmentally-friendly tote that features a periwinkle blue bottom and straps. 
Great for the beach, shopping or as a more casual athletic bag.
12 ounce weight cotton twill with blue cotton-web handles which have stress-point reinforced stitching.

Tote measures: 18.5 inches wide by 13.5 inches high by 5.5 inches deep.  
This large capacity tote bag looks great and is tough enough to stand up to stuffing, hauling and washing.