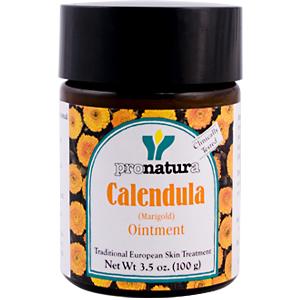 Pronatura, Calendula (Marigold) Ointment, 3.5 oz (100 g)

Calendula Ointment is the traditional European skin treatment for:
Rough dry skin

Baby Care (diaper rash)

Cracked skin on hands and feet

Athlete's Foot
One of nature's most healing herbs is Calendula (marigold).  Pronatura takes extracts of the petals of this bright orange flower and blends them into a pure herbal ointment.  This natural European formula both moisturizes and helps protect your skin against environmental influences.  It is particularly suited for dry, sensitive and irritated skin that needs soothing care.
Apply liberally as often as necessary. 
Ingredients: Purified lard, palmitic ester of ascorbic acid (Vitamin C), wheat germ oil, tocopherol (vitamin E), extract of calendula flowers (Marigold), and citric acid.