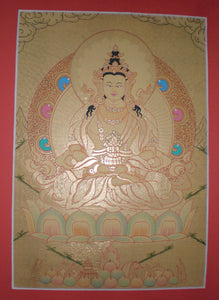 The God of Wealth, Jhambala, through spirituality original Tibetan Thanka.
Thanka is also spelled Thangka or Tibetan Thangka painting when it is an original piece of art, such as this.
Jhambala or Zambhala is the Tibetan god of financial and spiritual wealth.  He eliminates worry around money and bestows faith in the process of life.  The lama has drawn and painted him with his traditional lemons, which he squeezes gems from. 
Since this is an original Tibetan painting, it should be matted and framed and hung in the southeast corner of your home or office or near the entrance.  He will attract wealth of the highest vibration.  The detail of this painting is beyond description.  It takes the lama about a month of full time attention to complete such a painting.  Much of it is painted with 24 karat liquid gold.  

The actual painting has more border painted around the picture than I was able to scan.  The thanka measures 10 inches wide by 13 inches long.